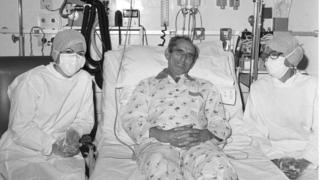 The son of the UK's first "successful" heart transplant patient 40 years ago has spoken about how his father "became a celebrity overnight".
Keith Castle, then aged 52, lived for more than five years after surgery at Papworth Hospital, Cambridgeshire in August 1979.
His son, Keith Jnr, is meeting the surgeon Sir Terence English, 86, to mark the anniversary.
It signalled a new era for transplants and his father became a regular on TV.
Keith Jnr, who was 29 in 1979, said: "Perhaps that was naïve, but the way we saw it was quite simple, really – without the operation dad would have soon died.
"I remember his first words when he came round were along the lines of 'did Fulham win on Saturday?'
"Dad became a celebrity overnight, really. People would always stop us in the street to talk about what happened."
Londoner Mr Castle died in 1985, aged 58.
Retired surgeon Sir Terence said he struggled to get government support for the procedure.
"Before [Keith Castle's] operation I'd been met with tremendous criticism about heart transplantation, including a letter from the Department for Health at the end of 1978 saying there would be no funding and the moratorium on heart transplantation would be continuing," he said.
"I thought 'damn that' and managed to get approval from the Cambridge Area Health Authority – and we went ahead."
He carried out a transplant on a first patient in January 1979, who survived for a few weeks, and Mr Castle was his second.
"Keith spent 28 days in isolation following the transplant and his success allowed us to generate more funding to ensure the heart transplant programme in the UK could become what it is today," said Sir Terence.
Surgeons at Papworth have performed about 1,500 heart transplants, including 45 this year.
The hospital, now named the Royal Papworth, completed its move to Cambridge earlier this year.
A history of heart transplants
The world's first human-to-human heart transplant was carried out on Louis Washkansky in Cape Town on 3 December 1967, led by South African surgeon Christiaan Barnard. Mr Washkansky, 54, died of pneumonia 18 days later
The first heart transplant in the UK, on 3 May 1968 was performed by surgeon Donald Ross. The recipient, Fred West, 45, survived for 45 days
A spate of heart transplants in 1968 and 1969 with short survival rates led to a UK moratorium on the procedure
Sir Terence English carried out the first heart transplant at Papworth in January 1979. The patient survived for 17 days
In August 1979, Keith Castle became the first recipient to be discharged from hospital in the UK, living for more than five years
residential pest control services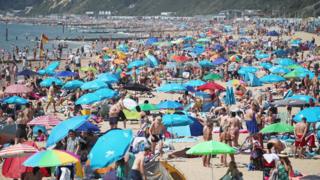 The UK is having its hottest day of the year, as temperatures soar across southern England.
The Met Office said Heathrow and Northolt in west London had reached 34C (93.2F) making it one of the warmest June days for about 40 years.
Friday was previously the warmest day of 2019, with temperatures reaching 30C (86F) at Achnagart in the Highlands.
A heatwave across Europe saw France record its all-time highest temperature of 45.9C (114.6F) on Friday.
BBC Weather said London could reach 34C (93F) on Saturday, which would fall short of the 35.6C (96F) June record set in 1976.
People flocking to the seaside were forced to take detours after the M5 was closed in Somerset in both directions because of problems with overhead power cables.
At Glastonbury Festival in Somerset, the temperature was expected to peak at 28C (82.4F), with organisers giving away free sun cream and water to help combat the heat.
Festival-goers reported long queues, with freelance journalist Sara Spary saying it took almost an hour to refill her water bottle.
Organisers said there was "no water shortage" and the supply was "running as normal", although it has put restrictions on showers as it usually does in hot weather. It said its 850 taps all have a ready supply of water.
The Met Office has issued yellow warnings of thunderstorms and lightning for parts of northern England and south-east Scotland for Saturday evening.
Temperatures are expected to drop overnight across the UK as cold air moves in from the Atlantic, sweeping away the humidity, said BBC forecaster Matt Taylor.
He said: "There won't be the same humidity on Sunday but there will be sunshine at times and it will feel quite pleasant."
He added that while central and eastern parts of the UK saw the hottest and most humid conditions on Saturday, the sunshine gave way to some storms in Northern Ireland.
"These are now pushing their way eastward to cross Scotland and the far north of England."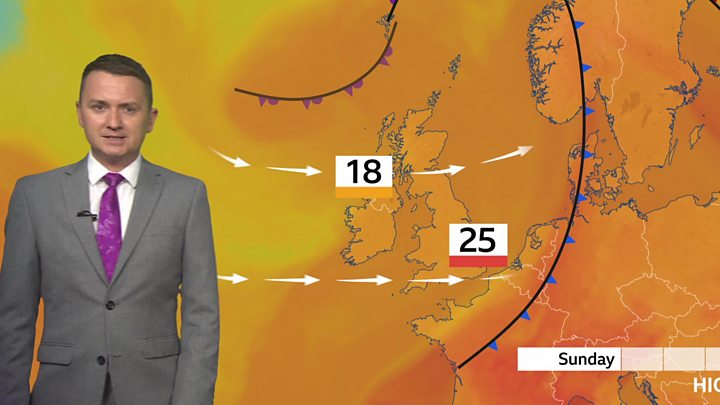 Earlier, England's most senior nurse called on people to "check in on neighbours and loved ones who can suffer the most from heat and pollen".
Ruth May, chief nursing officer for England, also said it was important to drink plenty of water, use a high-factor sunscreen and take allergy medication if you need it.
NHS England and emergency services have also warned the public to take extra care.
It follows the death of 12-year-old Shukri Yahya Abdi, who drowned in the River Irwell in Greater Manchester on Thursday.
And animal charity the RSPCA issued advice for pet owners to help them keep their animals cool.
Send us your pictures, video and experiences of the hot weather by emailing haveyoursay@bbc.co.uk.
You can also contact us in the following ways: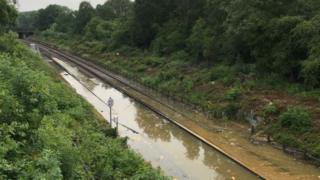 Heavy downpours across England are causing major disruption for road and rail users.
Network Rail said some areas had seen two months' worth of rainfall in one day with drains overwhelmed.
Rail operator Southern has advised people to avoid travelling, delay journeys or use alternative routes.
A total of 31 flood alerts are in place across the country, with some areas set to see up to 60mm of rain, particularly over the first half of the day.
Southern tweeted "train services running across the whole network will be cancelled or delayed".
A Network Rail spokesman said engineers were "out in force" pumping water away from areas.
"Across the south east, we suffered over a month's worth of rainfall in just one day and in some areas the downpours equated to two month's rain," he said.
"We'll continue working to keep passengers moving and then we'll review the drainage systems which have suffered problems to see if we can do anymore to avoid similar incidents in the future."
Leicestershire Police said it was receiving a "high level" of calls about blocked roads, while a driver narrowly escaped injury after a tree fell on his car in Thurnby.
A woman in her 80s and her dog were rescued from a flooded property in West Kingsdown, near Sevenoaks in the early hours.
Kent Fire and Rescue Service said she had been trapped in her home up to waist height.
The M25 was closed in both directions for almost eight hours after two sinkholes were discovered following a crash at about 23:30 BST, and in Devon, a thatched house caught fire when it was struck by lightning overnight. No-one was injured in the blaze.
Rain has also hit the Cricket World Cup for the second day in a row as Bangladesh's game against Sri Lanka in Bristol has been delayed.
BBC Test Match Special's Simon Mann said: "It's a grim scene. Play today is extremely unlikely."
Met Office meteorologist Alex Burkill said the UK was in for "some treacherous weather".
Weather warnings are expected to remain in place for much of the day, with forecasters predicting parts of the UK could be inundated during the rest of the week.
North-eastern parts of England and the Midlands are expected to bear the brunt of the downpours on Tuesday, with a yellow warning in place until midnight.
The Environment Agency has issued three flood warnings in south-east England, for the River Wandle at Morden, south London, the Emm Brook at Wokingham and Ravensbourne at Bromley.
The agency said on its website: "River levels have risen as a result of localised thunderstorms. Flooding of property is expected imminently. Please take action."
The Met Office said some parts of the country could see 60 to 80mm of rain on Wednesday and Thursday, possibly up to 100mm.
Mr Burkill described the figures as the "worst-case scenarios".
"If you add it all up some places are likely to see over 100mm this week, which is around double the average they would get in the whole of June," he added.
---
How have you been affected by the severe weather conditions? Tell us your story by emailing haveyoursay@bbc.co.uk.
Please include a contact number if you are willing to speak to a BBC journalist. You can also contact us in the following ways: